Cosmetic Treatments Market Trends October 8, 2014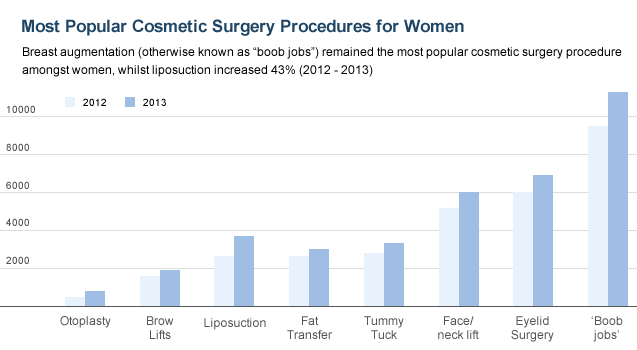 Even with the recent recession and the PIP breast implant scandal in 2012, it is evident that cosmetic surgery & non-surgical procedures are a growing industry with no sign of slowing. Recent research shows the latest trends in these areas, which procedures are likely to be popular in the future and which demographics of people are now undergoing these treatments. We have a wide range of services which can help clients to target these emerging markets and drive up awareness of the cutting edge treatments they provide.
The British Association of Aesthetic Plastic Surgeons has tracked these growing trends in the industry and predict that in 2015 the British public will spend £3.6billion on cosmetic procedures; 75% of this on non-surgical options such as wrinkle relaxing treatments. 50,122 surgical procedures were performed in 2013, which is a 17% increase on the year before. Liposuction saw the biggest increase where treatments were up by 41%. Although women made up 90% of the patients undergoing these procedures, men are increasingly choosing to use cosmetic surgery with liposuction and treatment for gynaecomastia (male breasts) being the most popular.
Industry research shows that various non-surgical procedures increased in  popularity in 2013. The most dramatic increases in enquiries were about the following:
Varicose vein treatments up 193%
Electrolysis up 189%
Mesotherapy (fat cell reduction using injections) up 164%
Laser lipolysis up 161%
Dysport (wrinkle reducing treatment) up 153%
Based on these trends, they predicted further increases in enquiries about the following new and upcoming treatments in 2014:
Platelet rich plasma therapy (for facial rejuvenation and hair loss) – 807% (Increasingly popular due to Kim Kardashian undergoing it.)
Ultherapy (skin tightening treatment)- 514%
Zerona laser treatment (for fat reduction) – 350%
Ultrasonic cavitation (for fat reduction) – 328%
Obagi Skin Care – 245%
Because new treatments are constantly coming onto the market, it is important to have a website that encourages potential clients to browse through the pages to discover what clinics offer and how these new procedures could benefit them. The more time they spend on the website; the more likely they are to make an enquiry. We can, not only, design a website that will be very user-friendly to allow potential patients to find things easily but also helps to convert an enquiry into an appointment booking.
2012 saw a call to ban cosmetic surgery advertising and the 'Government response to review of the regulation of cosmetic interventions' paper published in February 2014 made recommendations to prohibit the use of sales techniques such as time-limited deals, financial inducements, package deals and offering cosmetic procedures as competition prizes.
Therefore, new strategies have become necessary and a recent report by Intuition Communication, publishers of Private Healthcare UK, stated that "Social media plays a far greater role in marketing and promoting cosmetic surgery than in other parts of the private healthcare market." It also points out that the new market for cosmetic surgery is among 21 to 40 year olds where previously it had primarily been people over the age of 45 who became patients. This marks a significant shift in the perception of the customer & the marketing tactics to capture them.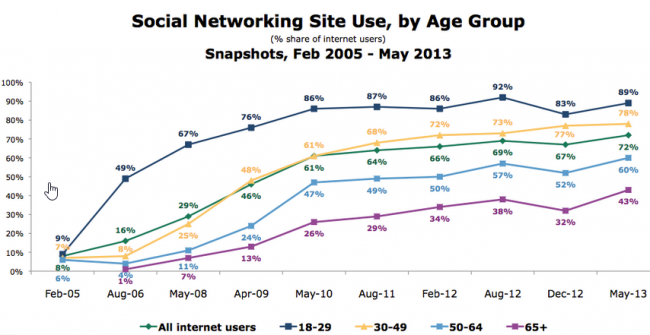 According to the Pew Research Centre, 89% of adult internet users aged between 18 and 29 use social media sites as well as 82% of adults between 30 and 49. This makes the need to utilise social media marketing an absolute necessity for the cosmetic surgery and non-surgical cosmetic treatments industry.
As the popularity of these types of cosmetic services grows, it is increasingly important to have a marketing strategy which enables clinics to maximise profit and gain as big a market share as possible. We have extensive experience and a proven track record in helping health care companies to expand their business. From doctors to beauticians, our previous work indicates that expertise and local market knowledge are essential components for success. This is achieved though initial contact strategies such as ensuring your company website is high up in Google's (and other search engines') listings, providing targeted 'pay-per-click' marketing campaigns and social media marketing as well as effective website design and keeping an eye on reviews etc. to ensure your company has a good reputation online. All these services are personalised to fit clients' exact needs and are integrated to provide a complete online marketing package. These services are also available individually to augment an existing marketing strategy.
Interested? Call us now on

0203 397 3735