Transforming your business through tracking phone sales February 4, 2010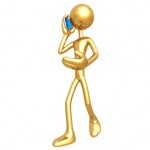 It has been over 3 months since we introduced call tracking and the response from the campaign implementation for clients is phenomenal. We have managed to boost profits from 15%-45% by eliminating non-converting campaigns and throwing the budget to profitable ones. Simples.
An additional benefit is that we no longer need to ask for feedback continuously as we know how the business is moving. The additional sales/lead tracking facility with the software enables you to see total number of calls, as well as calls that are confirmed sales or potential leads. By attributing values to both the campaign cost and the number of sales/leads you get ROI, approximate but extremely useful.
The reports are simple, yet revealing and easy to interpret. We even managed to help close a customer who was registered as a missed call, after alerting our client, who then gave them a call back.
Priceless.
Find out more about our call tracking services.
Interested? Call us now on

0203 397 3735