Independent and corporate blogging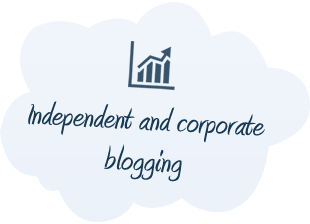 Communicating with consumers through an informal blog can do wonders for your brand. It can inform, educate and entertain your audience by revealing features which can only be found in small print as well as convey a sense of humanity, thereby, making your company more relatable.
Blogs however have many uses and there is no better way to engage in conversation with your customers than to write your own and contribute in the ongoing conversation that surrounds your brand. The benefits are great, such as the additional traffic you will attract by reaching out to a different source. The blogosphere as a social space offers interaction and is the Internet's prime means of referral advertising as more and more people view bloggers as opinion leaders.
Social Media can help you of set up a blog, advising on theme, content and blog promotion. Blog optimisation is an important factor of website performance with the results are always ROI driven.
A view of the future

Blogging has brought a revolution in self expression and publishing. It's accessibility attracts individuals as well as companies that are starting to learn how to use blogs to promote their products and services. Blogs will continue to provide a point of reference for consumers and play a big role in sustaining brand reputation.

Why Social Media blog strategy

Social Media offer creative consultancy services with in-house bloggers. Deep understanding of corporate and business blogging, attention to detail and public relation online will guarantee a robust strategy that improves the image as well as the sales.
Interested? Call us now on

0203 397 3735