Search Engine Marketing For Travel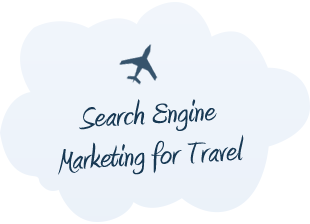 The competitive travel sector sees search engine performance both paid and organic as one of the most important elements of the total business revenue. Social Media Ltd has a unique marketing approach tailored to travel related websites, whether they are a tour operator, travel agent, airline, accommodation specialist or an aggregator and booking distribution channel. The sales generated from SEM activity have the highest ROI for publishers and merchants.
Results can be tracked and impact on ROI reported. You can now invest and see the returns in a similar way to pay per click ROI reporting, which makes budgeting so much easier.
Sometimes it is difficult to find the complete search marketing picture and ROI drive for a travel product. But we have done our homework in most areas of the travel industry including holiday packages, tours, flights, cruises, self catering, attractions and transfers on a global scale.
The SEM package for Travel from Social Media contains a blend of search engine optimisation, pay per click management and social media marketing that guarantees maximum visibility online. With years of experience working for the Tourism sector, our team can deliver to exceptional standards with a guarantee of service and most importantly results.
How we add SEO value for travel companies
Lengthy working experience in the travel industry
Outstanding geographical knowledge and data on key travel destinations
Solid knowledge of B2C marketing for travel
Proven results with existing and past tourism industry related clients
Extensive knowledge of converting phrases in the travel industry
Competent account managers, analysts and link bait experts with experience in the sector
SEO For Travel

Search engine optimisation in travel is evolving faster than any time before.

Organic search is dominant in the travel sector and SEO professionals need a good grasp of products and destinations to define a proactive strategy. In a competitive environment such as travel maintaining top organic search rankings requires strong content and design strategies that can be quickly adapted to keep up with market changes.

PPC For Travel

Social Media offer PPC consultancy services from highly experienced staff with proven track record in bid management. Attention to detail and great understanding of travel related products and services. We make sure to show your ads only to potential travelers at the right time of day and with best position to minimise costs.

Social Media for Travel

Marketing in today's social networking websites is something that a travel company must do. The user numbers of social media sites are such that it cannot be ignored as a channel. Past experience has taught us how to harness the power of social media for branding purposes but also direct sales. Electronic word-of-click is a reality in sites such as Facebook and YouTube where consumers decisions are daily affected by their interactions in the space. LinkedIn is increasingly used for B2B activities and the travel sector is no exception. We know travel and can help you with consultation, strategy, positioning and the leg work, if you need it.
Interested? Call us now on

0203 397 3735