Website Redesign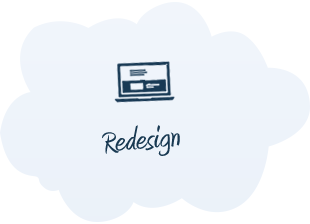 Internet technology moves so quickly that websites which are not updated often can start looking tired and dated.  In addition, the gadgets people use to access the internet change rapidly so websites need to be viewable on all of these to stay relevant.  According to Ofcom, 62% of adults use a smartphone to access the internet and nearly a third use a tablet.  This means that it is essential for older websites to be updated to appear properly on these devices.
At Social Media, we work closely with our clients to redesign their websites to improve the conversion rate and reduce the bounce rate.  This means that more people who click onto the site go on to make a purchase and less people click away from it without having a proper look.  To achieve this we need to understand their customers and what they are looking for.  As well as talking to our clients about this, we conduct extensive research into how the current website is performing to find out which aspects are successful and which are not.  Establishing this information is the starting point in designing the new website.
Once we know exactly why the current website is not performing as well as the client would like it to, we can redesign it to maximise the effectiveness of the parts that are already working well and replace those which are not.  Sometimes the problem is consistency or navigation issues, as it was with one of our previous client (see the case study here), which are causing users to click away from the site but at other times it is the appearance, pictures or colours which are putting potential customers off.  Either way, our expert web designers can easily resolve these issues.
Therefore, if your company's website is dated, has navigation issues, lacks consistency of style, isn't responsive (so doesn't look good on smartphones or tablets) or simply isn't performing the way you would like it to then it would benefit from a redesign.  Our designers can work with you to find the most effective ways of bringing in more business through your website.
Interested? Call us now on

0203 397 3735