Google still leads online search race March 14, 2013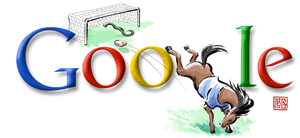 New research shows that Google is increasing its lead in the search race. The new figures from comScore show that while it's far from the only horse in the field, Google is still the fastest. Bing, Yahoo, AOL and Ask still have significant minority shares of US searches, which translate into millions of users per month. And although Google is still way ahead, the search field is churning up.
The big story is the race for second. Institutional turmoil at Yahoo means Yahoo! Search is falling way back. The web veteran has seen its market share plummet from 13.8% last February to 11.6% now. Most alarming, it has lost 0.5% in the period of January to February of this year alone.
While Yahoo runs out of steam, Microsoft's Bing is tearing up on the outside. Bing has posted 14% more searches year on year, partly due to it being the default search engine for a lot of mobile devices and Microsoft products.  Bing has overtaken Yahoo to bag 16.7% of searches, up from 15.3% a year ago making it the second most popular search engine.
AOL and Ask are holding fairly steady as outsiders, just about maintaining a 15% and 11% market share respectively. Although the two are definitely losing rather than gaining ground – both have seen slight declines in their share of total web searches in the last two years.
But most importantly, Google is not just ahead, it's barely even in sight. It has fielded 6% more searches in the last twelve months, and its market share has gone up from 67% last year to 67.5% now, which continues the recent trend of bagging half a percent of market share every year.
Worldwide, its dominance is even more assured. While Baidu and the Russian search giant Yandex eat into its competitors market shares, Google continues to widen its lead.
Thankfully, all bets were off long ago.
Interested? Call us now on

0203 397 3735