2022 social visual trends: AI generation, scrollytelling and more!  February 15, 2022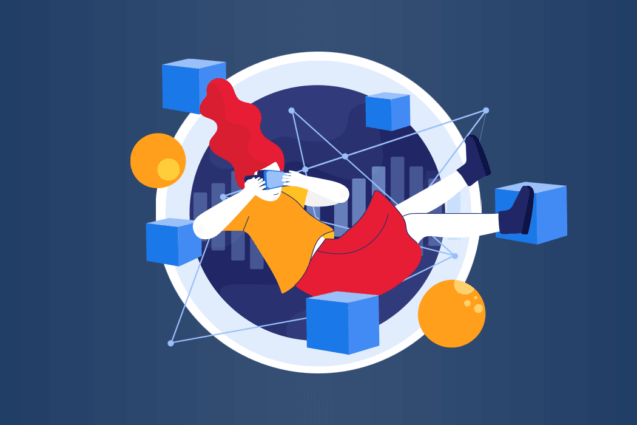 If you're versed in this blog and social media marketing, then you understand that online culture is always postulating, shifting and evolving. You won't find a more focused period of innovation in social media than the last 2 years – the pandemic really has changed the platform, as well as the audience. 
Do you know what these visual trends are? Have you started to see them across all the major social networks? Have you adapted your social visual content/branding to the trends? Whether your answers are all yes or all no, keep reading below to find out what visual trends will be dominating the social waves in 2022. 
Virtual Worlds/Metaverse
One of the biggest visual trends of 2022 is the continued blurring between the real and virtual world. We have already started to see many organisations, stars and brands make their own virtual experiences or jump headfirst into popular virtual initiatives such as the Metaverse. For example, Roblox hosted a week-long online music festival featuring artists such Lil Nas X and Twenty-One Pilots in their own Roblox-metaverse. Socialites such as Paris Hilton have even set up stores in metaverses to increase brand awareness. 
It isn't just the metaverse that is contributing to the trend of blurring reality and virtual reality. Microsoft are adding 3D avatars to their Teams application – some say in response to Meta – which will allow users to communicate using a digital avatar in a virtual space. 
Why are virtual worlds and communication taking off in 2022? Simple; everything is remote now! As soon as the workforce went remote, every other industry sought to find solutions for their business in the remote/virtual space. Are you taking advantage of the ability to target customers within the comfort of their own home by transporting them into a curated space of your own making?
In 2022, digital spaces are going to boom as AR and VR technology gets better and better. Designers will have to adapt to 3D elements and motion graphics to increase interactivity and amplify their projects with immerse social campaigns. One the metaverse hits the mainstream, you will see digital creativity take on a new meaning as we spent time and money in a virtual society. Trend analytics show search queries for 'immersive reality' have increased by 275%, 'office avatars' by 230% and 'virtual worlds' by 143%.
Psychedelic Art
Style and design is very cyclical. We can often look to the past to see what will be trending in the present. 2022 will be a throwback to the 70s. expect to see playful, colourful and bold motifs and tones harkening back to the psychedelic style of the 1970s. audiences are done with monotonous and minimalistic UXs and graphic design. They want escapist and captivating graphic design that is experimental in nature. 
This is backed up by trending analytics which show search query increases in 'kaleidoscopic art' by 600%, 'vivid colours' by 182% and '70s' by 46%. The thinking is that after a couple of hard and tough years, consumers and social media users would much rather be met with playful content that allows them to ignore the harshness of the real world and, for older audiences, nostalgic content. 
Y2K Aesthetics
Just because you're going to see 1970s-inspired visuals in 2022, doesn't mean that's the only time period people are getting nostalgic for. Millennials and Gen Z – the two biggest age cohorts on the planet right now – are feeling nostalgic for Y2K culture (aka turn of the millennium). We are seeing increased search queries for 'pastel backgrounds', 'positive emotions' and 'childhood', all increasing by 100% to 205%.
To capitalise on the Y2K nostalgia, your social visual content needs to use pastel colour palettes that are heavily dependent on pinks, yellows, greens and blues. The style you're going for a retro futuristic vibe with shiny accents and highlights. As we've said, people are tired of minimalistic design, and the Y2K aesthetic brings a fresh new rave-like stye to the social scene. 
AI-Generated Visuals
If you're a social media marketer or content creator, you are no stranger to AI (Artificial Intelligence). AI Generation has been working its way into content creation and social media for a while now, but what's the next step? Well, 2022 is going to be the year of AI-Generated visuals. 
In the near future, AI will have a significant impact on content production. Brands and creators will be able to use AI to quickly and efficiently produce and distribute personalised visual content and replies. In this case, it will be a massive help for community creation and customer management. Imagine using an AI content creation system to create personalised messages and holiday cards for your followers – the personal connection will be tangible. 
Sci-Fi Influences
Another style and tone that is going to boom in social visuals this year is classic Hollywood sci-fi. There is behavioural data to suggest that visuals rooted in science-fiction spark emotions of inspiration, curiosity and excitement in an online community. Social media marketers can use this to their advantage to create a certain tone and style for their content.
We have seen increasing search queries for 'space traveller' (up 214%), 'extraterrestrial life' (up 165%), 'science' (up 118%) and 'experimental' (up 71%). 2022 is the year science, design and social media come together. It is also a reflection of the trends of the world right now – which are coincidentally very science based. For instance, cryptocurrencies, NFTs, space tourism and remote working.
Expect to see graphics and content that takes into consideration extra-terrestrial shapes and forms, illustrations of robots and visual imagery of space travel. This content will come in dark shades and metallic textures, creating an illusion of vast projects and new dimensions. This style of visual content will make audiences wonder what the future holds and what your brand has to offer. This is a powerful feeling to instigate and can generate true engagement on your content. 
Scrolly-telling
People are always looking for new ways to tell stories online. Many of the points discussed above are about finding a new visual way to tell stories on social media. The biggest trend coming in 2022, in that respect, is 'scrolly-telling'. This is a new multimedia visual format that can blend together videos, animations, sound effects and written copy seamlessly. 
In 2022, expect to see your favourite websites revamped with asymmetrical layouts, parallax scrolling, funky typography, automatic music tracks, hero videos, sound effects and 3D motion graphics. All this is to add dynamism and a fresh look to content thus creating an immersive experience. For 'scrolly-telling' to work it has to strike a balance between quickness, usability and interactivity. The user has to be led through and should never feel like they are being overwhelmed or left-behind. 
2022: A year for visual content on social media!
If you haven't started thinking about how you're going to innovate your visual content on social media yet, then you better get on it fast! 2022 is going to be the year of immersive storytelling in nostalgic visual worlds. It's going to be personal and instant so you have to make sure you are creating content that can envelope your target audience. 
Interested? Call us now on

0203 397 3735