6 best ways to grow your YouTube Channel February 24, 2022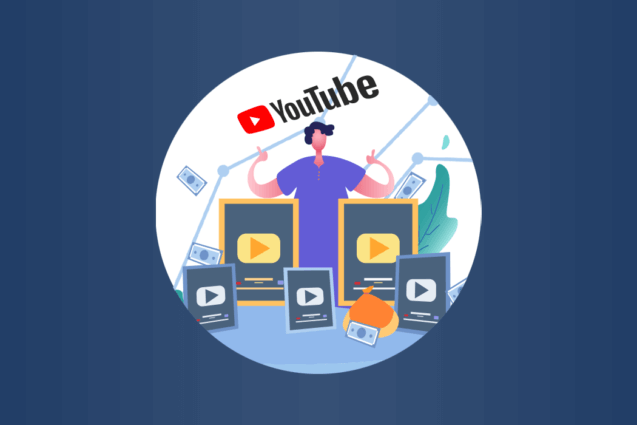 The rise of video marketing is over – it no longer needs to rise. Video is now the undisputed king of digital content! And, whilst sites like TikTok, Facebook, Instagram and your own native website are great places to host video content, maintaining a YouTube channel is the best option for video promotion of your brand. This makes YouTube the video god!
Did you know that over one billion hours of video content is watched each day on YouTube? On top of that:
YouTube currently has 2 billion users. 

42.9% of all global internet users access YouTube monthly.

YouTube's user count of 2 billion+ places it second on the list of most-used social media platforms. Only Facebook has more users.

India has the most YouTube users, estimated at 225 million. The United States follows, with 197 million.

The UK averages the most views per person.

YouTube is most popular among people aged 15-35.

Women use YouTube more than men.
It is for these reasons that YouTube is considered the second largest search engine in the world and one of the most influencing social networks.
As a platform, YouTube wants to help its users find the content they want quickly, whilst also driving engagement. However, it is such a behemoth of a network that it can be hard to grow your YouTube channel. Today, we are going to be looking at the best ways of growing your YouTube channel.
Build around a keyword/topic
Marketers that aren't versed or experts in SEO usually ignore this step for their channel. Use a keyword tool, there are some that are specific to YouTube such as keywordtool.io, to look for the most searched keyword in the niche/genre you are targeting. 
Once you have picked out a keyword, check out videos that rank highly in that topic at the moment to see if your content is on the right track. You can then adjust your content creation strategy to better target your niche, rank higher and hit SEO markers.
Engage with your audience
People can get so lost in the sheer amount of content to watch on YouTube that they forget it's also a social media channel – this means you need to interact with your audience. Start a discussion or discourse with your video and then continue the discussion in the comments to build a community. 
Furthermore, YouTube rewards channels for overall time spent on the channel, watch time, likes, dislikes and, most importantly, comments. If you can, try to respond to each comment whilst still encouraging engagement in your initial video. 
You should also take some time to visit other channels and engage in their comments section as well. It would be extra helpful if the brand is similar to yours and shares the same audience. When you're in this space, you can be reactive and reply to the discussion. Or you can be active and be the centrepiece in the comments. 
Repurpose Top Performing Content
Not all great content is built from scratch. Audit your content to see which blogs, guides and other content is performing well and think about how you can repurpose them into short and engaging how-to videos. Because, how-to videos are some of the most popular content on YouTube; people binge-watch 4 billion hours of how-to videos every year. And remember, the most successful videos on YouTube are between one and five minutes long – keep it quick, short and snappy!
Social Media Synergy
Cross promotion on social media is a must! Promote your YouTube videos on your other social channels to grow your audience. In fact, a 2021 Global Overview Report reveals that YouTube sees a staggering 90% of its engagement come via the top social media platforms. 
Some of these social networks would benefit from you posting the full video natively on them rather than embedding a YouTube link. However, if you are campaigning to grow your YouTube channel, you can use teasers on all the social networks, prompting users to follow your YouTube channel for the full thing. 
You need to be branded!
If you want visitors to take your YouTube channel seriously and subscribe, you need to look professional. This means that your branding needs to be consistent across your entire online presence. Your blog, your website, your social profiles and your YouTube need to have the same colour scheme so audiences understand it's the same company. Don't forget to complete the professional look by adding custom URLs to your channel header, completing your bio and applying for verified status. 
Thumbnails
Do not underestimate the power of the thumbnail! YouTube advertises other videos using thumbnails. These pop up in sidebars, recommended tabs and in end cards of video content. Having a catchy and engaging thumbnail will allow you to stand out from the rest. On YouTube, videos with a catchy title and an appealing thumbnail rank higher. Engaging thumbnails have a high Click Through Rate (CTR) and, as a result, they rank highly. Tactics such as highlighted areas, arrows, large text and eye-catching images are dynamite for thumbnails and YouTube cards. 
YouTube Marketing at Social Media Ltd
With YouTube marketing, you can create synergy across all your social platforms, build your online community and also use analytical data to inform your content. 
Social Media Ltd's YouTube experts can successfully set up and manage your YouTube channel. As well as strategise, create and push content out for your target audience and social presence.
Interested? Call us now on

0203 397 3735