Happy Holidays from Social-Media December 23, 2015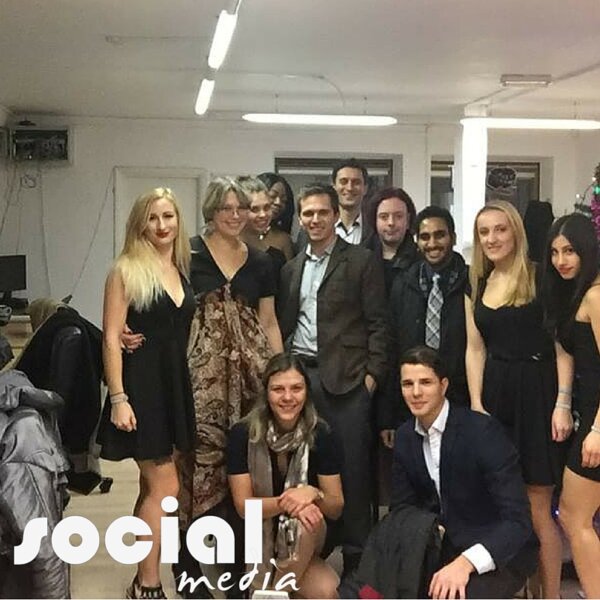 With the festive break almost here, our team at Social-Media are working around the clock to make sure our office runs smoothly and without a hitch while many of us are off stuffing our faces full of turkey, ripping open beautifully wrapped gifts, and singing Christmas carols around a fireplace with egg-nog in hand… At least that's what you'd expect, isn't it? Our squad here in the Farringdon office is different, we are special, unique and more multicultural than the United Nations.
This Christmas break many of our specialists are packing their bags, checking in to airports and Snapchatting their journey's back to their homelands to celebrate with their loved ones. We asked the crew what their favourite memories/traditions of Christmas Day are, and had a good giggle at some of the responses whilst also learning that little bit more about eachother.
GABRIELLE – Brighton, United Kingdom
"My favourite Xmas tradition is playing the After Eight's game where you stick an After Eight on your forehead and try and get it down to your mouth without using your hands!"
JULIA – Kiel, Germany
"The whole time leading up to Christmas is a lot more important in Germany than it is in the UK, and that's my favourite tradition. On the 6th of December it's Saint Nicolas day, where all kids put their polished boots in front of the door of their house overnight. These are then filled with chocolates and little presents on the next day!"
TAM – Melbourne, Australia.
"Christmas in Summer is special enough, but my favourite tradition is the big family lunchtime feast in the backyard under the sizzling sun, followed by a water fight which was always the bargaining chip used by our parents in order to get us to eat all of our food."
Laura – Parma, Italy.
"Instead of Santa bringing Christmas presents we have Saint Lucy who comes on the night between the 12 and the 13th with a donkey and leaves the gifts under the tree. My favourite tradition is the big family dinner on the 24th (no meat), and then at midnight we exchange and open gifts before a church service."
TATIANA – St. Petersberg, Russia.
"Being Orthodox and celebrating Christmas in January, my holiday traditions are more around the celebration of New Year. My favourite tradition at this time is the afternoon after the party on the 31st all guests gather around again, eat celebration leftovers and watch old movies."
DANIEL – London, United Kingdom
"My favourite tradition is eating more than my stomach can handle, unzipping my trousers and falling asleep on the sofa. I deserve it."
JAMES – Fleet, UK
"I like to do something new (non-traditional) every Christmas. My favourite Christmas so far was spent in Zagreb with my good friend from Croatia and it was beautiful in the deep snow. As far as 'traditions' go – I don't really like them in general!  (tongue face emoji)."
NATALIE – Spanish Town, Jamaica.
"My favourite tradition at this time of the year is to drink lots of rum and be merry!"
While some of our awesome bunch are away, our Social-Media office will be closed from December 24th and will reopen in the New Year on January 4th. We look forward to what the New Year will bring, and wish you all a safe and happy holiday.
Interested? Call us now on

0203 397 3735