Our MD Kostas Alekoglu on BBC News April 11, 2018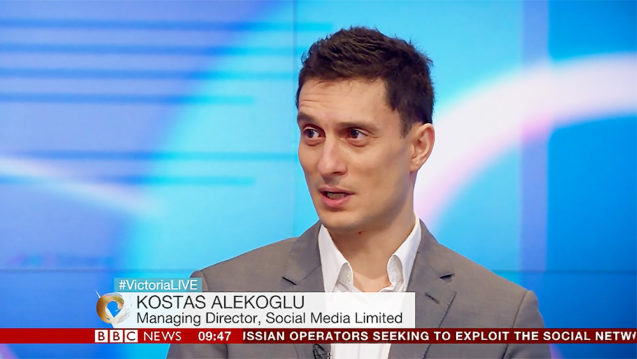 Our managing director, Kostas Alekoglu, appeared on the BBC News show Victoria Live the morning of 11th of April 2018. The presenter Victoria Derbyshire was discussing his views on the Facebook data breach and Mark Zuckerberg's congressional testimony.
The panel included Kostas Alekoglu of Caliston and Social Media Ltd, Matthew Rice of the Open Rights Group and Louise Haughton. The discussion was aimed at getting reactions of the Facebook breach from experts in the field. Kostas spoke about the importance of being an informed audience when it comes to criticising Facebook.
Some believe that the congressional interviewers did not research thoroughly enough before the inquiry which led to Zuckerberg being able to evade responsibility. This shown by Facebook share prices rising by 5%, which has increased Zuckerberg's net worth by $3 billion. Furthermore, a poll we ran on Twitter showed that 67% of people were keeping their Facebook account.
Legislation & the UK Data Protection Law
During the discussion, the mention of the new Data Protection Law in the UK, which comes into effect on May 25th 2018, was raised. Kostas spoke about social media networks being unable to regulate their data, thus, the new laws should aid this. Social networks will have to adhere to rules on how we use the data, how much of it we use and how intrusively we can go into people's details to pinpoint whether we want to offer them a product or a service.
We are still waiting on further developments on this story, and as one of our co-panelists said, Zuckerberg saying sorry is getting old. There were severe breaches of data protection and consumers and businesses alike want to be reassured that their information online is protected.
The panel was certainly a beneficial opportunity to discuss the impact of social media and how we share content online. This data breach has brought to light that while we must be vigilant with what is shared online, social media is still an invaluable component in our lives.
Let us know your thoughts by #victorialive on Twitter and join the conversation!
Update 17/04/2018: Watch the video:
Connect with Kostas on:
Interested? Call us now on

0203 397 3735
Our MD Kostas Alekoglu on BBC News