TikTok's new marketing feature? 'The TikTok Kitchen'!  February 2, 2022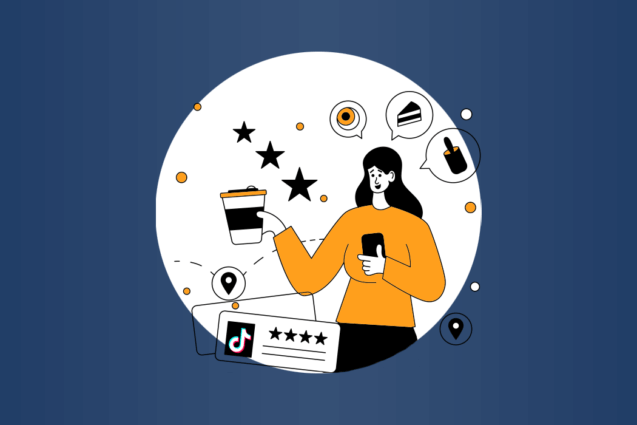 TikTok rounded off a very successful 2021 by topping the most-downloaded application charts by Christmas. However, internally and privately, it must have been a frustrating year to see your biggest competitors continuously and unashamedly ape and copy your most impactful features. 
Instagram, Twitter and even YouTube have all been culpable of mirroring TikTok's content creation tools and, in some cases, copying it down to individual pixels. TikTok's developers must be wondering if their next big innovation will also fall into the lap of their competitors. But what is their next reveal? Peculiarly, it is an idea called 'TikTok Kitchen' – and, for once, it may actually be TikTok that is doing the copying this time!
What is 'TikTok Kitchen'?
TikTok Inc. has announced a partnership with a company called Virtual Dining Concepts, in order to deliver takeaway food in locations across the United States, with ambitions to go global. The aim is to have this ambitious collaboration up and running for business by March 2022. 
Virtual Dining Concepts has a track record of successfully backing celebrity and non-celebrity founded restaurants. The company has worked with the likes of Guy Fieri, Steve Harvey, Mariah Carey and Tyga. They do this by enlisting and subsidising the services of local independent restaurants to cook and deliver their special menu items. Local staff and kitchens will handle orders, lowering overheads, and allowing opportunity for scale and expansion through third-party collaborations. Most of the local restaurants used will include chains owned by Virtual Dining Concepts co-founder Robert Earl, such as Buca di Beppo and Bertucci's 
In fact, the company is behind the extremely successful MrBeast Burger, a takeaway burger designed and launched by YouTube megastar MrBeast aka Jimmy Donaldson. MrBeast and Virtual Dining Concepts sold over 1 million burgers in three months when they launched at the end of 2020. The venture went from strength to strength and now MrBeast Burger operates from 1,500 locations in the United States, Canada and the United Kingdom. Jimmy Donaldson is even looking to expand further by opening physical locations as well. TikTok wants a slice of this lucrative pie. 
TikTok have announced that, when they launch in March, they will be beginning with a whopping 300 locations before expanding to over 1000 locations by the end of 2022. They are serious about capitalising on their social trends and finding new and inventive revenue streams as a result. 
Why are TikTok getting into the restaurant business?
TikTok has reported that more than 1 billion people worldwide use the platform monthly and that total is growing by the hour. The platform is home to the internet's biggest memes, AR trends and features a whole host of industry influencers. But why is TikTok focusing on food? 
The answer is rather simple: food and recipe videos are a key and major part of the social media platform's programming. This is prime hunting grounds for the world's most viral food trends, recipes and analytics regarding what food types and meals people are interested in. 
For example, TikTok and Google revealed that the most-searched dish of 2021 was 'baked feta pasta'. They also highlighted other meals such as pasta chips, smash burgers and corn ribs as popular items that consumers found on TikTok and then wanted to purchase in real life. Other items that ruled the TikTok waves were crispy chicken sandwiches, cloud bread, whipped coffee, pancake cereal, hot cocoa bombs, baked oats and messy sundaes. The TikTok Kitchen menu which will be updated quarterly or as the trends themselves shift at their own pace. 
Co-founder of Virtual Dining Concepts Robert Earl said that if a dish starts to go viral, and the service is not at a quarterly stage, there will be opportunities to add said dish to the menu. Earl also stated that they do not want the menu to feature constant offerings but rather evolve and shift with social media trends. 
What happens to the money made from TikTok Kitchen?
Now, this may seem like a rather elongated way to generate new revenue streams for TikTok but it is actually rather genius, especially for content creators and community giveback. This is because, in a press release, TikTok said it would devote the profits it makes from TikTok Kitchen to the creators of the viral dish itself, in order to encourage others to post their culinary talents on TikTok. 
TikTok said: "Proceeds from TikTok Kitchen sales will go to both support the creators who inspired the menu item and to encourage and assist other creators to express themselves on the platform in keeping with TikTok's mission to inspire creativity and bring joy to its users."
It is, in the end, a means to incentivise content creators to keep creating for TikTok. It isn't clear how TikTok will ascertain who created a dish or a trend and how much they will be subsidised but we must remember this concept is in its early stages. However, TikTok stated that "creators will be receiving credit for dishes within the menu and will be featured prominently throughout the promotion.".
Co-founder Earl is very clear in stating that whilst Virtual Dining Concepts sees this as a business opportunity, TikTok sees this very much as a means to expand and develop their creator's hub. This means that the company sees this more as a marketing effort rather than a long-term business option. Nevertheless, TikTok has not put a time frame on this venture. 
In Conclusion
TikTok Kitchen is part of a long-term plan by TikTok to make the platform into more of a branding vehicle that can generate buzz in a myriad of industries. With TikTok Kitchen they can tap into rising trends thus expanding their eCommerce capabilities and instigating more monetary actions in-app.
TikTok wants to establish transactional behaviours on the app in order to make it a norm amongst their user base. Will TikTok be copied again or have they beaten their rivals to the punch by copying MrBeast first?
Interested? Call us now on

0203 397 3735