Link Development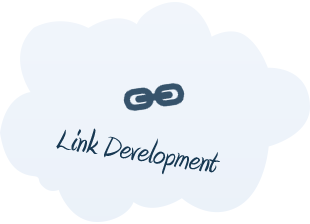 Despite all the changes that Google have made to their search algorithms recently, having a high number of good quality links is still the best way to achieve a good ranking position on search engines. Developing these links and ridding yourself of bad links, which could be causing you to be penalised by Google, is a time consuming process.
Nowadays, it is not always 'the more the merrier' when it comes to websites linking to your site. The type of website linking to yours is now taken into consideration. Sites that link to many other sites but have very little actual content are considered to be 'spam' by Google. They feel that these websites are trying to cheat the system by selling links to sites that may not be of the best quality. Quite often 'bad' quality websites link to other sites without the owners' knowledge. In these circumstances, it becomes necessary to find out which sites are linking to yours and remove the damaging links.
Once the links that could potentially drag your site's ranking down have been removed, you will need to establish the type of links that will improve your ranking instead. There are many different techniques for building links which vary greatly for different industries. At Social Media, we never use any 'suspect' practises that could result in our clients' sites being punished by Google. Instead, we use tried and tested methods which have worked for us in the past, improving them over time through extensive research.
As having good quality links to your website has become so important to ranking highly on search engines, it is vital that this is done properly and monitored regularly to ensure that no 'bad' links have appeared that could have a negative effect on where your website appears on Google. Stop worrying about unnatural links and rely only on experts that know what to do when it comes to reinforcing your linking strategy.
Interested? Call us now on

0203 397 3735