Facebook Advertising Campaigns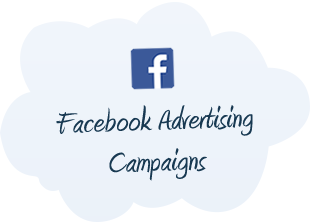 Facebook is the most popular social networking site on the Internet. As a diverse community Facebook offers numerous avenues for marketing products and services. Our knowledge lies in understanding how to best use every channel in a fiscally efficient and results driven manner for optimal performance.
From widget installations, to group promotion, page creation & promotion, text & image ads and participation marketing, we can do it all on Facebook. Previous campaigns have shown that combining different promotion methods is much more effective than isolated approaches.
The work carried out by Social Media on Facebook is a thoughtful approach that combines creative thinking, analysis, monitoring and execution. It is important to be aware of best practice guidelines to succeed. We have many years of experience working on this social network and our brand management team can deliver to exceptional standards with a guarantee of service.
Why Advertise on Facebook?

Facebook offers unique targeting benefits that search engines don't. You can advertise to a very particular segment of people by determining the relevant demographics and social preferences.

Social Media Facebook approach

Social Media's consultancy services utilise highly experienced staff. Attention to detail, deep understanding of the Facebook community guidelines, roles of engagement and the ability to maintain good public relations online.

How much does it cost?

Facebook posting and advertising management pricing varies depending on your requirements. Please contact us for a quote. Alternatively you can check our small business social media price packages.
Interested? Call us now on

0203 397 3735