LinkedIn Advertising Campaigns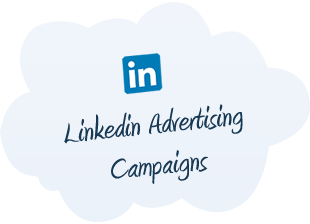 LinkedIn has become an important online B2B marketing and recruitment channel. As a diverse community LinkedIn offers numerous marketing opportunities. From direct marketing to generating business leads, starting discussions around services and receiving recommendations that build your brand's reputation, LinkedIn offers a targeted solution to B2B advertising.
The network's targeting capabilities allow you to advertise directly to your peers and potential clients. You can select the industry, location and position seniority your message goes through, ensuring your target audience receives your post without the 'noise' experienced in other marketing media.
LinkedIn offers both UK and global advertising opportunities as it simultaneously reaches both applicants and clients. Most times you do not need a monthly subscription to succeed in marketing on this unique platform.
The work carried out by Social Media in LinkedIn is a thoughtful structured brand of analysis, monitoring and implementation. We help to create professional company profiles, manage paid cpc ads, create and administer groups as well as participation marketing. It is important to be aware of guidelines and best practice to succeed. We have 4 years of experience working on the network and our brand management team can deliver to exceptional standards with a guarantee of service.
Why Advertise on Linkedin?

LinkedIn holds unique targeting opportunities that search engines don't. You can specifically advertise to a particular segment of professionals in the industry of your choosing. LinkedIn's continued growth means that good placement for marketing opportunities is going to become increasingly important.

Social Media's Approach to Linkedin

Social Media provide B2B consultancy services for online marketing with highly experienced staff. We stringently follow community guidelines, ensuring that your reputation is protected.

How much does LinkedIn marketing cost?

LinkedIn organic activity and ad management prices depend on your individual business requirements. Please contact us for a quote. You can also check our small business social media price packages.
Interested? Call us now on

0203 397 3735