Internet Consultancy Services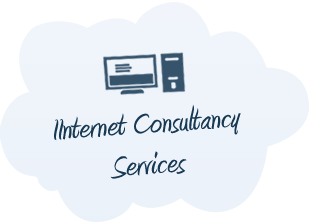 Internet consultancy services are offered for a range of marketing activities online. These will include search engine marketing, email, social media, banner advertising, public relations, IT development, content generation and communications.
All the campaigns are focused on return of investment so your advertising spend increases revenue and you can afford to advertise further.
Don't forget that our business is to make your business work so you can invest more money with us. We base our thinking into long term relationships that don't build on fancy dinners but results.
A view of the future

Web marketing consultancy is evolving with the medium. It is more apparent that strategies across the board need to be unified and led by a consistent strategy. Bringing most aspects of your online business activity together and giving it to a consultant to evaluate can bring great new insights in the way you conduct business. More importantly it will highlight opportunities for growth in sales and traffic.

Why Social Media consultancy

Social Media offer consultancy services with highly experienced staff. Attention to detail, deep understanding of online media, search engines and internet advertising as well as a good understanding of public relations, mass participation, user generated content and social networking websites.
Interested? Call us now on

0203 397 3735